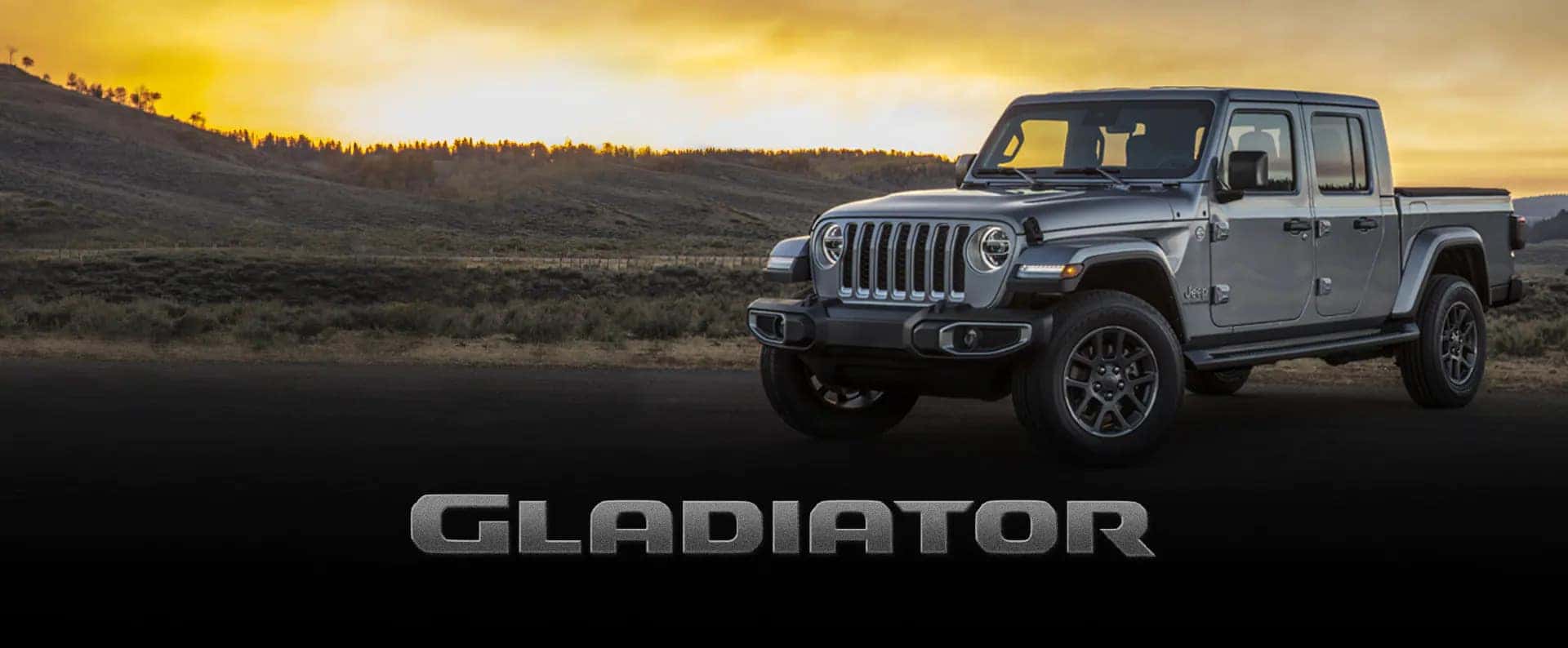 2022 Jeep Gladiator Sales near Bradenton, FL – Firkins CDJR
Combining incredible utility, perceptive technology, and the legendary capabilities innately present in every Jeep, the 2022 Jeep Gladiator is constantly ready to answer the call of adventure. Dubbed as the only open-air pickup truck in the industry, the all-new Jeep Gladiator is your gateway to experiencing the best that life has to offer, both on the road and off it. Conquer life's every journey with an iconic and trailblazing Gladiator that never goes out of style, only at Firkins CDJR, your top dealership for the best Jeep models in Sarasota, Tampa, Bradenton, and beyond.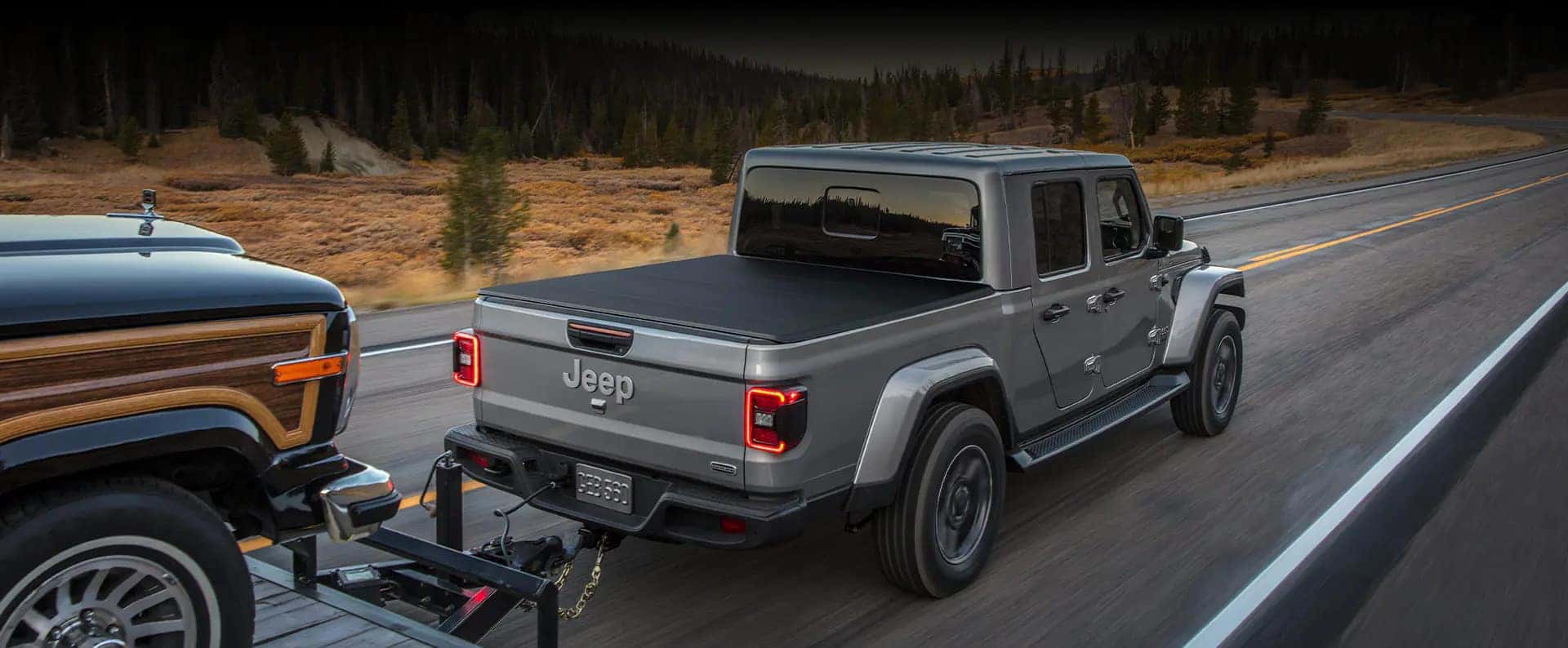 2022 Jeep Gladiator – UTILITY UNMATCHED
With its high-strength steel frame, heavy-duty axles, coil front, and rear suspensions, and the largest brakes in its vehicle class, the Jeep Gladiator is built differently. Much like the legendary gladiators of Greek history, its utility is unmatched in every type of challenging terrain and is the ultimate partner in every adventure.
The 2022 Gladiator is certified Best-in-Class in this category, being able to carry 1,700 pounds worth of payload in its 4×4 frame. Perfect for bringing along everything you need for every adventure.
Speaking of adventures, the rugged all-steel 5-foot cargo bed makes room for any kind of cargo, or convertible to just about any type of space you need in your everyday journeys.
With a certified Best-in-Class for gas towing, you'll be able to tow 7,650 pounds worth of weight, giving you the strength and power to win every weekend getaway.
Equipped with an Arsenal of Tools
The 2022 Gladiator is equipped for every adventure and provides unmatched utility for any driver. The 5-foot bed is thoughtfully designed with available LED lighting and a 3-position tailgate. Clever features include the available Trail Rail system and tie-down loops that can further keep all your gear and equipment organized, while available add-ons such as the heavy-duty spray-in bed liner adds further protection to your cargo bed.
For trailer enthusiasts, the 2022 Gladiator makes it much easier and effortless to back up and hitch with a trailer, as the ParkView Rear Back Up Camera displays dynamic gridlines, and its 4x Trailer Hitch Zoom feature allows you to align your Gladiator even more precisely than ever.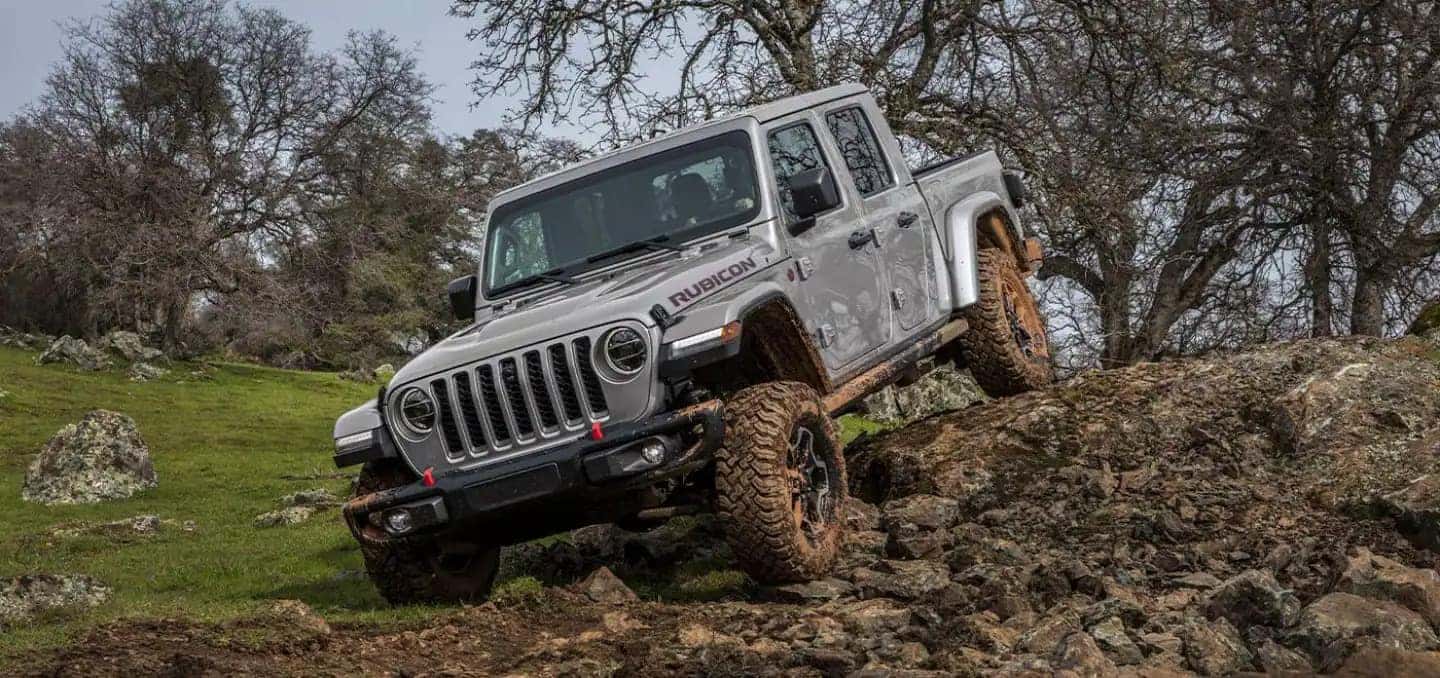 2022 Jeep Gladiator Capability – DESIGNED TO EXPLORE THE GREATER TAMPA / SARASOTA, FLORIDA AREA
Whichever Gladiator you choose, you'll be guaranteed capabilities for
practically any adventure on-road and off-road. Jeep's legendary 4×4
performance shines through with the 2022 Jeep Gladiator and attention to
detail ensures that the Gladiator can conquer almost any terrain found on the planet.
100% First-Ever Trail Rated 4×4
The 2022 Gladiator is the first-ever Trail Rated Pickup Truck and features the Trail Rated 4×4 badge as a testament to its capability to deliver insanely unmatched off-road performance.
Rubicon: The King of the Rocks
Made for the rockiest of terrain, the Gladiator Rubicon model elevates the Jeep 4×4 experience even further.
Every 4×4 system that Jeep provides is meant to provide the maximum traction possible whenever it is required.
High air intake and special water sealing makes the 2022 Jeep Gladiator navigate through creeks and streams with ease and safety, up to depths of 31.5 inches.
Tricky spots on any trail are no problem for the Jeep Gladiator, as precision steering and optimized wheelbases make for easy navigation and maneuverability.
Uneven terrain poses no challenge, as high levels of articulation help keep the 2022 Jeep Gladiator firmly in contact with the ground at any phase of your adventure.
Our 2022 Jeep Gladiator Rubicon models can reach up to 11.1 inches of ground clearance, enabling you to drive over any obstacle with confidence.
Mojave: The Champion of the Desert
Flourishing in dry and unforgiving terrain, the 2022 Gladiator Mojave model features reinforced frames and axles, strengthened cast iron steering knuckles, and enhanced suspension, turning your conventional Jeep into a high-speed desert racer that is meant to speed through sand as if it were nothing.
First-Ever Desert-Rated Jeep Brand Vehicle
Thriving from desert journeys, the Gladiator Mojave is certified Desert-rated, giving it champion status over one of the most rigorous and difficult terrains and environments on Earth.
Sand, gravel, and loose dirt pose no challenge to the 2022 Jeep Gladiator Mojave, and it conquers these elements of nature with absolute ease through its strategic power management and delivery.
The Mojave is designed to withstand high levels of heat, coarse sand, loose gravel, and intrusive dust, making it the perfect choice for unforgiving desert environments.
Ride Control and Stability
The 2022 Gladiator Mojave's desert-tuned suspension system allows it to easily and comfortably tackle undulating terrain commonly encountered in desert environments.
The Mojave's maneuvering system is appropriately nimble and responsive to the point that it subconsciously becomes an extension of the driver, giving you the ability to best navigate rough desert terrain.
Crest sand dunes and blast through sandy whoops with impressive running clearances via the Mojave's optimized suspension system.
The 2022 Gladiator makes forward navigation seem like a breeze, as the TrailCam display allows for on-screen obstacle detection that gives you more vision as you blaze through the trail ahead.
Tools for Enhanced Capability
Gladiator models also feature certain tools that allow for maximum capabilities in any off-road setting, such as an Off-Road+ button that optimizes throttle, transmission shift points, and traction control, heavy-duty Dana test 44 front and rear solid axles that provide incredible strength, rigidity, and durability with extra-thick tubes and forgings, high-strength steel skid plates for boosted protection to your Gladiator's key components, and heavy-duty forged front and rear tow hooks that are perfect for helping out lesser-capable trucks you may encounter on the journeys ahead.
Gladiators offer 2 powerful engine options, giving you more flexibility and customizability that matches your everyday needs. Choose between the 3.6L Pentastar V6 or the 3.0L Ecodiesel V6.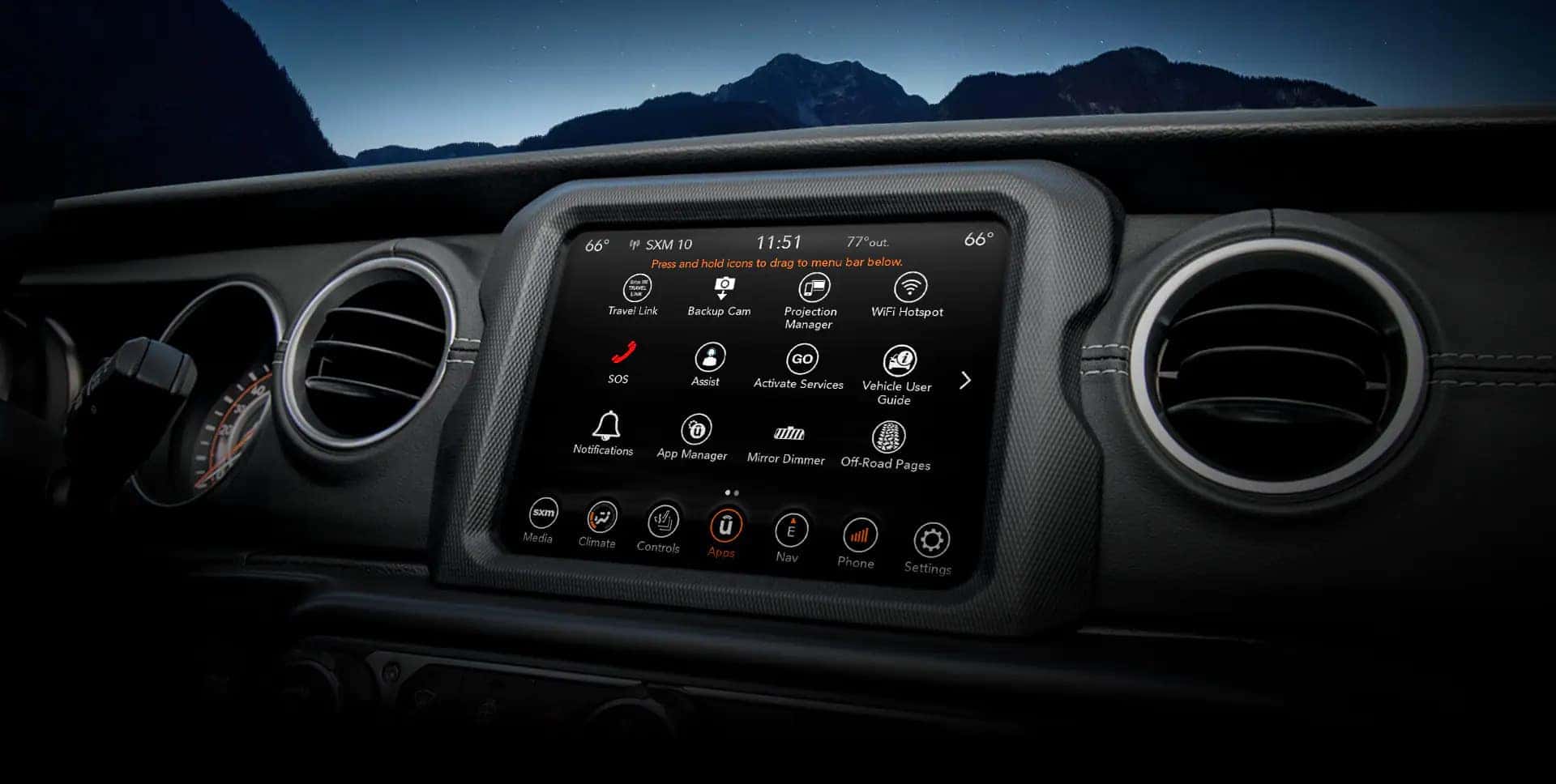 2022 Jeep Gladiator Technology – GEARED FOR INNOVATION
The 2022 Jeep Gladiator may be geared for the most brutal and unforgiving environments, but it also comes with an array of technological advancements that make it geared for innovation. From Voice Command to available wireless connectivity, Gladiator's technology is intuitive, essential, and reliable in any scenario.
The 2022 Gladiator has available wi-fi wherever, giving all passengers the ability to explore the internet within a 50-foot radius from the vehicle.
The perfect buddy for all your adventures, the Uconnect System is the all-in-one hub for all your Jeep Gladiator's technological features. Accessing Uconnect gives you remote access and control, plus key information about your driving that you might need for future adventures. Key features include Jeep's innovative Vehicle Finder, a vehicle health report, a remote vehicle start, and the Send & Go feature that allows you to look for locations on your phone via an app and display them on your Uconnect touchscreen.
Alexa, your Adventurous Best Friend
The Jeep Gladiator features Amazon Alexa at the helm, giving you the power to unlock important features simply with your voice. You can check fuel levels, send addresses to the navigation systems, start up your vehicle, and more. All in the comfort of your own home.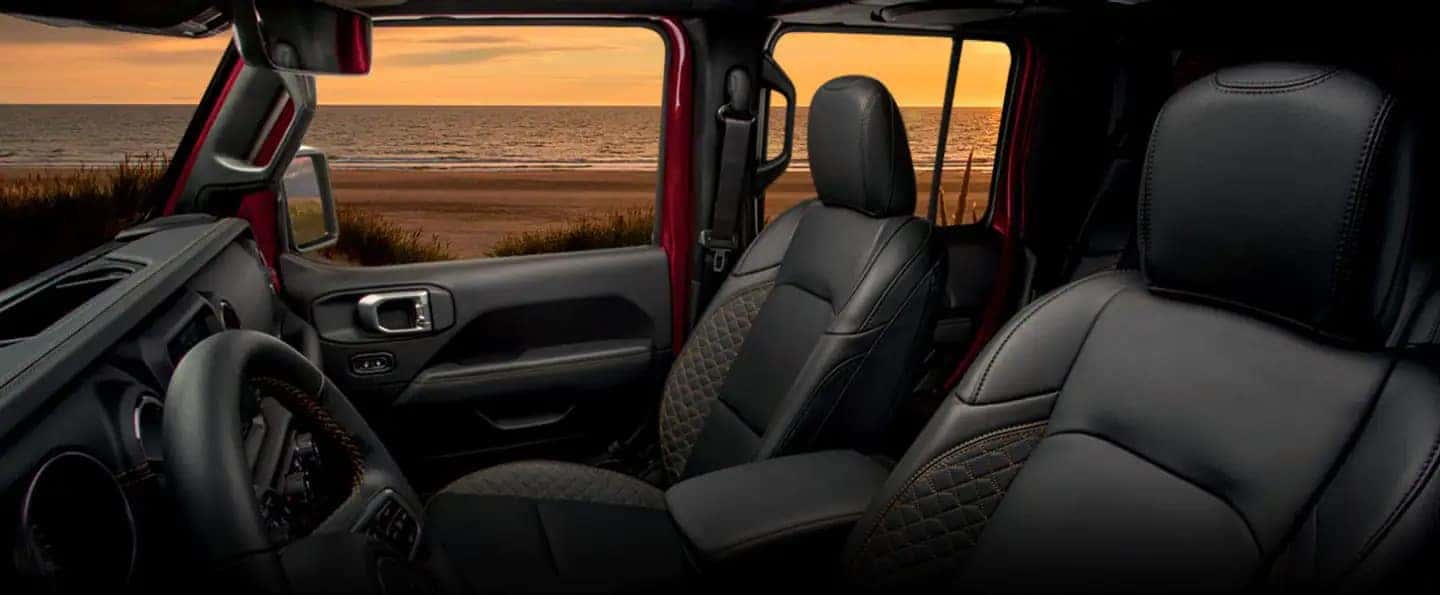 Jeep Gladiator Design – STYLISH INSIDE AND OUT
The Gladiator's appeal comes with the brand, as the Jeep design is known for its rugged, iconic, and unconventional looks. The 2022 Gladiator takes that even further, by becoming the ONLY Open-Air Pickup Truck in the entire industry, opening the possibilities for pick-ups everywhere.
All-Around Style and Customizability
The 2022 Gladiator features a style unmatched, making it open for adventure while expressing the statement of confidence and strength to anyone who might witness it. Now, the open-air freedom of the Jeep brand is available in more ways than one, as features such as the new Sunrider flip top, multiple door options, Segment-exclusive fold-down windshield, Door-Off Mirror Kit, and Corning Gorilla Glass brand adventure-proof windshield gives you limitless options to further your freedom of expression and style.
The interiors of the 2022 Gladiator are made with keen attention to perfection, premium feel, rugged design, and sincere attention to detail. With flexible and foldable seating that allows you to securely stow any inside gear, heated front seats, heated steering wheel, Remote Vehicle Start, an all-new Jeep brand Air Filtration system, as well as the added option to enhance comfort via leather-trimmed seats and wrapped dashboards with soft-touch surfaces finished with platinum chrome, you're sure to ride not just with rugged capabilities, but with supreme unparalleled comfort.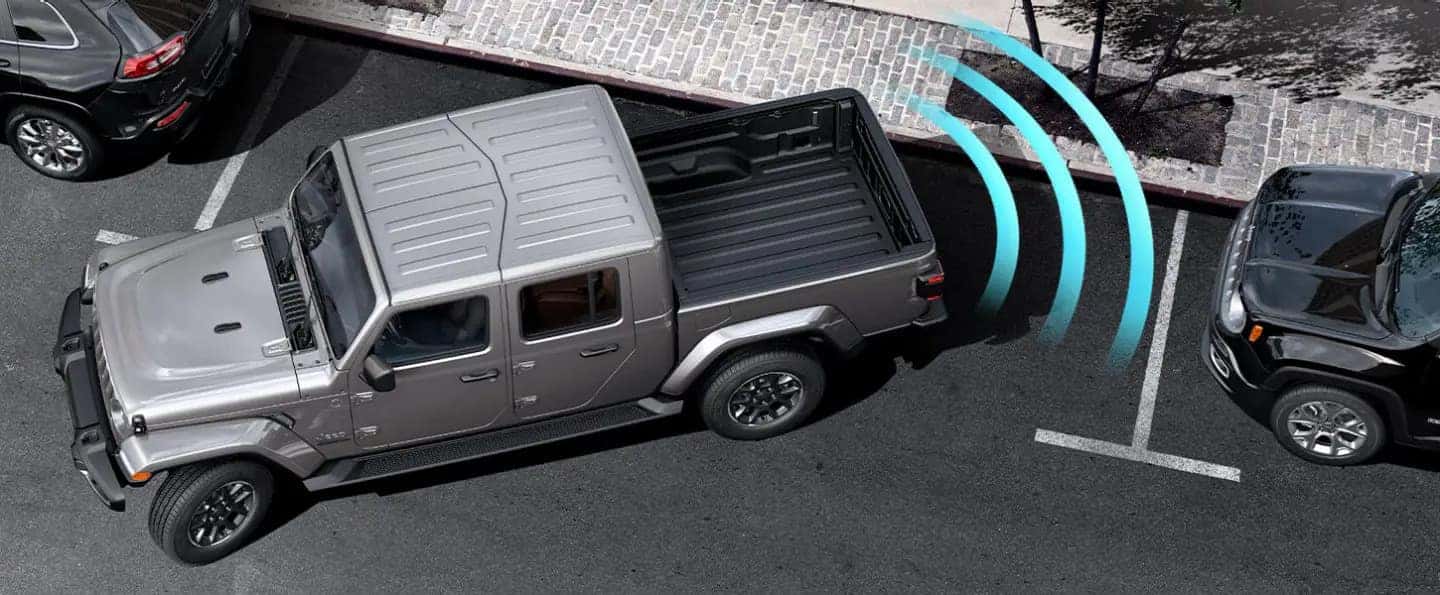 2022 Jeep Gladiator Safety & Security – JOURNEY WITH CONFIDENCE
Nothing provides utmost confidence in driving through challenging terrain more than a mountain of safety and security, something that is fully provided by the 2022 Jeep Gladiator. Our models offer over 80 standard and available safety and security features that help keep you and your passengers protected from any and every type of risk or challenge out there on the road.
The 2022 Gladiator is equipped with the latest technology in safety and security, giving you and your passengers the ultimate peace of mind for any journey. This includes technological advancements such as blind spot monitoring, adaptive cruise control, forward collision warnings with active braking, and rear cross path detection.
Park your vehicle in the most optimal and simplified way, with tools such as ParkSense Rear Park Assist and ParkView Rear Back Up Camera.
Premium High-Strength Steel Chassis
The 2022 Gladiator model is equipped and manufactured with advanced high-strength steel to handle unexpected mishaps on the road, allowing the vehicle to direct energy away from the sensitive cabin in the unlikely event of a fatal crash.
For trailer enthusiasts, the Trailer Sway Control system allows your Gladiator to detect whenever your trailer sways, applying brake pressure to individual wheels to help bring back your vehicle and the trailer in line.
From tire pressure monitoring to Keyless Enter 'N Go and enhanced Bluetooth connectivity, the 2022 Gladiator provides tools that constantly serve their purpose for elevated safety and security with every journey you take.
Find your 2022 Jeep Gladiator Model Available at Firkins Chrysler Jeep Dodge RAM in Bradenton, FL
Various models of the Jeep Gladiator line are available right now at Firkins Chrysler Jeep Dodge RAM for anyone in the Sarasota, Tampa, and Bradenton areas and beyond. Browse through our inventory for updated knowledge of available units, and visit our dealership today for the best deals!
2022 Jeep Gladiator Models include:
<Gladiator Sport 4×4>
<Gladiator Willys Sport 4×4>
<Gladiator Sport S 4×4>
<Gladiator Altitude 4×4>
<Gladiator Willys 4×4>
<Gladiator Overland 4×4>
<Gladiator Rubicon 4×4>
<Gladiator Mojave 4×4>
<Gladiator High Altitude 4×4>
Jeep Gladiator Service & Parts serving the Sarasota, Tampa, Bradenton areas, and more.
For anyone in the Sarasota, Tampa, and Bradenton areas looking for Jeep Gladiator service or Jeep Gladiator parts, Firkins CDJR is FULLY EQUIPPED with high-quality, Jeep-certified parts and accessories, as well as a team of experts ready to service your Jeep Gladiator in the best way possible.
Click the links below to our parts and service departments: