Must-Have Accessories for Your Jeep Wrangler
Owning a Jeep Wrangler means you know how it beckons you to take it off the asphalt and lead it to more rugged terrain. The Wrangler was created for off-roading, but before you head out, outfit your Jeep with these must-have accessories.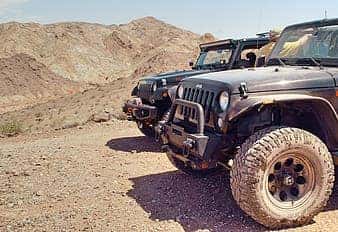 Bikini Top
Bikini tops provide much-needed protection from rain and the sun for extended off-roading trips. The Westin Wade™ Wrangler Skytop will keep harmful rays at bay and you and your Jeep's interior dry.
LED Lights/Light Bars
It can get pretty damn dark in the wilderness, and LED lights will slice right through the blackness with their photon-blasting capacity. Combine 4 LED lights with the TRAIL FX Wrangler Light Bar for the ultimate lighting power.
Winch
Although it's great to expect the best, it's wise to plan for the worst. Installing a winch system is one of the best ways to do that. A WARN winching system that provides a 10,000 lb pull capacity can turn getting stuck into a small hiccup, rather than a calamity.
Fender Flares
Flying mud from tire spin is inevitable, but that doesn't mean that it ALL has to land on your Wrangler. Extra Wide fender flares will also protect your paint job by reducing paint chips from displaced debris.
Lift Kit
When off-roading, a lift kit is a no-brainer. It won't increase ground clearance but will lift the body of your Wrangler from the frame, making your wheel wells higher to allow for bigger tires.
Bull Bars
Bullbars are designed to protect your engine against anything from a boulder, to a fallen tree, to collision with wildlife. They're certainly visually appealing and useful in the city but are mandatory for off-road adventures.
Roof Rack
Days of off-roading not only means adventure, it means you'll need survival necessities like stores of food and water. The TRAIL FX Wrangler Roof Rack holds up to 300 lbs of coolers, kayaks and any of your other off-roading essentials.
Firkins CDJR has the Wrangler accessories for all your off-roading needs. Pay us a visit at 2700 1st Street, Bradenton, FL 34208 or give us a call at 941.757.3874 to schedule a test drive in one of our new or quality pre-owned vehicles.